We're pretty sure you've figured out by now that we're Norfolk Terriers, but you still might be wondering "what the heck is a Norfolk Terrier?" We want spare you the trouble of surfing away to your favorite search engine and get you back to the important thing at hand – us. So we'll provide just the basics here.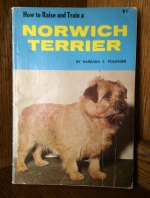 The
American Kennel Club page on the Norfolk Terrier breed
describes us as the "perfect demon." We think "perfect" sums it up nicely; "demon" is almost libelous.
Our roots trace back to the late 19th century in jolly old England where our ancestors bravely aided foxhunters by jumping from a hunter's pouch to bolt those vermin from the woods.
Barbara Fournier's 1967 book, How To Raise and Train a Norwich Terrier, describes our history:
Undergraduates at Cambridge University spoke of 'Doggy Lawrence' who provided them with red, or black and tan, cropped-eared small dogs in the 1880's.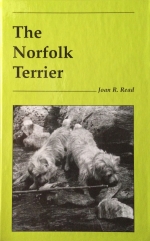 As mother nature had it, some of us had drop ears while others had prick ears. By the 1964 in the UK and 1979 in the US, we were recognized as 2 separate breeds: Norfolk Terriers with drop ears and
Norwich Terriers
with prick ears. Norwich (pronounced "nor-itch") is a town on the eastern side of England in the county of Norfolk.
Together, Norwich and Norfolk Terriers are the smallest of the working terriers. And in case you need to be reminded, constant begging for treats is hard work, but it's not the only work we're prepared to do.
Our 2 breeds differ by more than just the look of our ears. Joan Read covered the differences in her classic The Norfolk Terrier, and here's just one example:
Norfolk are more 'back to nature,' easier to breed, and more independent…. In the show ring, a Norwich defies you to put him down, while a Norfolk says, 'Please put me up!'
Sounds like she's got us pegged!
We're usually about 9-10 inches at the shoulder and weigh about 12 pounds. The AKC breed standard for Norfolk Terriers says that we have wiry coats with a soft undercoat that come in "all shades of red, wheaten, black and tan, or grizzle…." Red or wheaten is probably more common than the black and tan. Our coats have to be hand-stripped.
When everyday people watch the amazing things we do, they describe our temperaments as fearless and steadfastly loyal. We generally love children and have the valor to take a swat from a cat, provided the cat earns it by letting us strut our quickness.
Enough of the book-learning! Back to our exploits!